Hi, I'm Amanda. Nice to Meet you.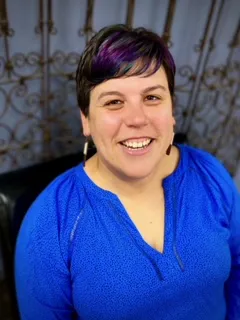 Seeing clients virtually or at my office in Towson!
Amanda Chenkin, LCPC, NCC
(she/her)
As a counselor and career coach, my style is direct and compassionate as I both support and challenge you on your growth journey.
With a counseling background, I will help you to lean into the challenges that may be keeping you from building your most meaningful pathway in life. Your challenges are your opportunities! Combining coaching and counseling, I will be there to help you identify these opportunities and to navigate both seen and unseen obstacles along the way.
My very first job out of college was at a staffing firm. It was there that I discovered my talent for coaching people on how to tell their stories in a way that connected them to hiring managers and, most importantly, got them hired. In the nearly 20 years since that first job, I have continued to partner with those who are working towards a better life for themselves and their families. It has been an honor to walk alongside them as they discover meaning and purpose and create their unique paths.
After returning from U.S. Peace Corps service in 2009, I discovered my passion for career counseling while working with adults with disabilities. I deepened my commitment to this work by graduating in 2015 with my Master's Degree in Education and Human Resource Studies, specializing in Counseling and Career Development. Additionally, I am a Certified Career Counselor and a Gallup-Certified Strengths Coach. I am an active member of the National Career Development Association and the American Counseling Association.
Seeing clients virtually or at my office in Towson!
Since the earliest days of my career, I have loved walking alongside people in their career journeys because I have seen the ways that work can both traumatize us and give us opportunities to heal.
I am passionate about helping organizations and individuals recognize and begin to dismantle the systems that continue to oppress while building spaces where all truly feel welcomed and respected.
Work, home, family, health, leisure—all of these things impact one another, and it can be easy to feel off-balance, overwhelmed, or like something has to give. I'm here to help you recalibrate, so that you can feel confident and fulfilled in all the meaningful realms of your life. 
I love chatting about the above issues as well as many others that exist in the fusion between work and mental health. Want to listen to me chat with other experts about these issues and more? Head on over to my blog. Want me to come on your podcast or talk to your group? Contact me to connect.
Book a free 15-minute consultation or send us a message if you have questions before you book: