This is your one life.
It's time to enjoy it.
When your life and work are constantly stressful, draining, and demoralizing, it's impossible to bring your best self to the table.
Do you find yourself:
Tired of being told you're too sensitive, bossy, or assertive?
Dreading Sunday nights before your work week even begins?
Finding yourself catering to everyone else's emotions or priorities?
Exhausted by ignoring micro-aggressions about your identities?
My unique process helps you re-discover the passion and meaning in your life and work on a plan to bring more fulfillment in your day-to-day by creating a safe, non-judgmental space where you can reflect, learn and grow into the next phase of your journey.
Hi, I'm Amanda.
Nice to Meet you.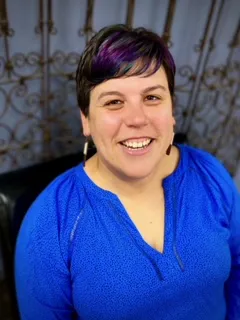 Amanda Chenkin, LCPC, NCC
As a counselor and career coach, my style is direct and compassionate as I both support and challenge you on your growth journey.
I will help you to lean into the challenges that may be keeping you from building your most meaningful pathway in life. Your challenges are your opportunities! Combining coaching and counseling, I will be there to help you identify these opportunities and to navigate both seen and unseen obstacles along the way.
"Amanda has a way of teaching that is very relatable and understandable. After just an hour and a half of going through the card sorts together, I left knowing that I could do the card sorts with clients efficiently and communicate with my clients how they can be helpful. The information she shared with me is so worthwhile, especially in this economy and with how we are reframing what work and career actually mean to us. Thank you, Amanda!"
- Catherine, LCPC
"I was fortunate to work with Amanda when she was a part-time coach at Columbia University School of Professional Studies. When I first met Amanda, I instantly gravitated toward her kindness and warm personality which made it easy for me to be transparent with her throughout the time we worked together. She's a great listener and truly cares about our students. I appreciate Amanda's dedication to the individual she is working with."
- Kat, Career Coach
Book a (free) Consultation
Book a free 15-minute consultation by clicking the button to the right or send us a message below if you have questions before you book: